Conference Venue
The conference will take place at the 'Galaktika' sport camp, in the forest on the bank of Isloch river, 40 km from Minsk.
The area is covered by mobile and Wi-Fi networks.
The sport camp provides to LVEE participants 2, 3, 4, and 5-person rooms (with common modern conveniences and shower cabins on each floor), a conference hall with all necessary accessories, as well as playgrounds, pool tables, pavilions and chargrills, nice pine forest.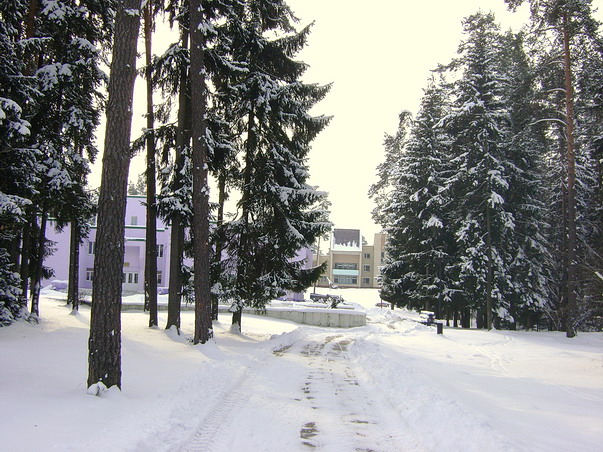 The fee includes three daily meals. If you have any special food requirements (diet, vegetarian, etc.), make sure you let us know so we can help plan for catering. You can do that on-line after your registration request is approved.
We will publish the accommodation plan shortly before the conference begins.
Getting there
We provide organised transportation from Minsk to the conference venue and back to Minsk on the first and the last days of the conference, accordingly.
If you prefer to use your own transport, refer to the map below and the following instructions:
Follow the M6 motorway for about 30 km from Minsk (direction Grodno) until you reach Rakov (Ракаў)
Exit M6 on the westbound roundabout junction and enter the town
Continue until a T-junction near a bus station, then turn right onto Н8256
Follow the road for about 15 minutes until you reach a sign telling you to turn right to Galaktika
After turning right, continue for about 250 metres.
If you plan to arrive by car and wouldn't mind giving someone a lift, please add yourself to the car pooling wiki page. We encourage you to consider sharing cars to help reducing costs, road congestion and impact on the environment.