DEDF-2011 forum
19 січня 2011, 19:36
A registration is opened to II Digital Electronics Developers Forum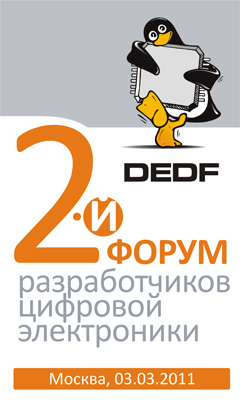 One of our constant partners, the Promwad Innovation Company, in cooperation with MT-System company will carry out II Digital Electronics Developers Forum. The key topic of the conference will be the following: «Practical application of systems-on-chip in multimedia and mobile electronics. Examples of design based on Samsung mobile processors, Linux and Android platform». Technical specialists are welcome to make a claim for free-of-charge participation as listeners or speakers.
DEDF will be traditionally carried out in the form of a one-day conference, aimed at discussion of topical issues of using various technological solutions in digital electronics development. Participants of the forum are invited to take advantages of live communication and experience exchange. They will examine new approaches to engineering tasks, look at sample projects, implemented upon Linux, Android and WinCE operating systems, and also will get acquaintance with new design efforts of Russian specialists – with devices and embedded systems on chips by Samsung, Texas Instruments, etc. Besides that, participants are welcome to ask questions to invited experts and to communicate with representatives of the Samsung Russian support center.
Speakers will gain special advantages from participating in DEDF-2011. They will show their expert knowledge to professionals in digital electronics (potential customers and employers) to get feedback on their projects and to get a consultations from leading engineers of the industry.
Target audience of DEDF-2011 are engineers – developers of digital electronics, technical specialists, implementation experts, managers of development departments, technical directors of design centers, distributing companies and technology vendors.
Participation claims are welcome up to February 13, 2011 for speakers, and up to February 20, 2011 for listeners. More details are on the official web page of the forum.